Eric Siu is the visionary founder of Single Grain, a prominent digital marketing agency. With a magnetic presence in the world of podcasts, his shows, Marketing School & Leveling Up, have garnered an impressive 2.1 million monthly downloads collectively. Eric's expertise has driven remarkable growth for industry giants like Amazon, Uber, Airbnb, and Salesforce, elevating their customer acquisition strategies. A true industry influencer, Eric hosts exclusive marketing masterminds twice a year, drawing together the crème de la crème of media, marketing, and business in Miami and Beverly Hills.
As a multi-talented entrepreneur, he is the acclaimed author of 'Leveling Up: How to Master the Game of Life.' An esteemed speaker on marketing, SaaS, and NFTs, Eric's insights have reached audiences worldwide. Moreover, he actively invests in innovative ventures, backing companies like Eight Sleep, Levels, Fountain Health, Synthesis, and more. Embracing the power of collaboration, Eric is a valued member of prestigious communities like YPO and TED, where his influence continues to shape the future of marketing and business.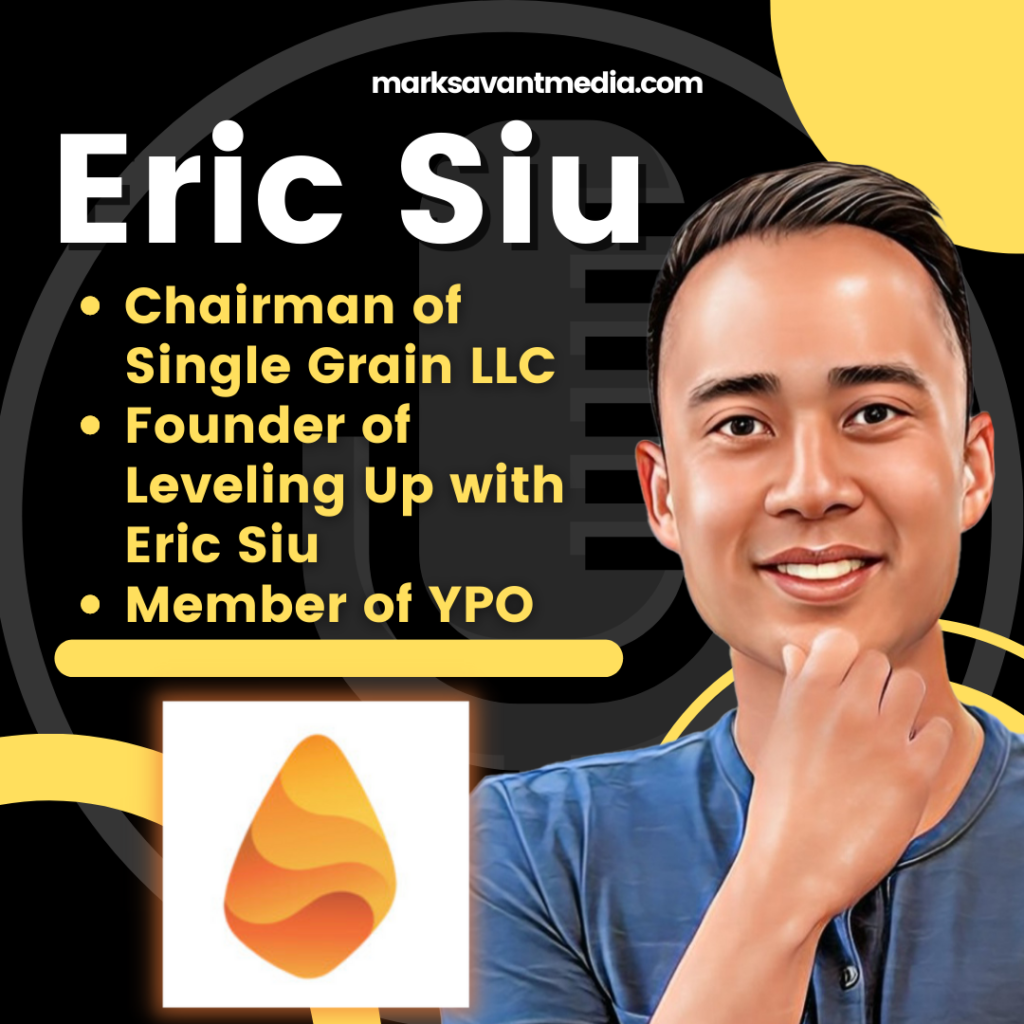 In this episode, Eric discusses various topics related to AI and marketing. He starts by talking about the benefits of using Riverside FM for podcasting and how AI transcription technology has improved their content creation process. Eric shares how his company, Single Grain, uses AI in their marketing efforts, including AI transcription for blog posts and programmatic SEO.
He also discusses the importance of using an AI duplicate content detector, such as Hugging Face, to ensure the originality of content on their website. Eric emphasizes the need for a company-wide focus on AI and the role of a chief AI officer in spearheading AI initiatives.
The conversation then shifts to the power of AI in lead scoring and ideation. Eric explains how his team uses AI to score leads and generate unique ideas for sales calls, enhancing the sales process and improving customer satisfaction.
He touches on the topic of podcasting and the importance of creating valuable content. Eric shares his approach to podcasting, including the use of short-form solo episodes and the goal of empowering entrepreneurs through his podcasts.
The discussion concludes with a conversation about Elon Musk's rebranding of Twitter to "X" and the potential challenges and opportunities it presents. Eric shares his thoughts on the rebranding and the potential impact on the platform.
Takeaways from Eric Siu
AI for 1. programmatic SEO
AI-enhanced content
AI lead scoring and ideation
Podcasts are the best marketing in 2023
Sell to Fortune 500 companies
Connect with Eric Siu
https://www.youtube.com/channel/UC3owDdLk7HL1dyQnkoBuRew
https://www.youtube.com/@MarketingSchoolPod"
Instagram: https://www.instagram.com/ericosiu/
Twitter: https://twitter.com/ericosiu
Mark Savant
LinkedIn: https://www.linkedin.com/in/mark-savant-ba777145
Start your Podcast: https://marksavantmedia.comBuzzsprout: https://afterhoursentrepreneur.buzzsprout.com/1246622/12195177